SERA research students group
SERA has a network of PhD students from different Scottish Universities who act as representatives for SERA. Student representation is vital in the continuing goal of enhancing the student experience for postgraduate students. SERA student representatives ensure that students' views are heard influencing educational research and university practice. They organise meetings during the academic year and they are actively involved, making suggestions, cooperating with each other and organising events for postgraduate students and early career researchers.
Below there is a summary of the events that SERA student representatives organised in 2016.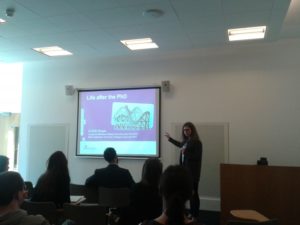 'Theory and methods' seminar/ workshop
SERA student representatives organised a 'Theory and methods' seminar for PGRs and ECRs which took place on the 25th of June at the University of Stirling.
Professor Kate Wall, School of Education, University of Strathclyde, delivered a session entitled: An introduction into visual methodology.
This session aimed to facilitate dialogue about visual methodology in educational research and to explore how researchers in the field are conceptualising quality in visual methods. Students from different Scottish Universities attended the seminar and by the end of the session they had added some visual approaches to their portfolio of research methods.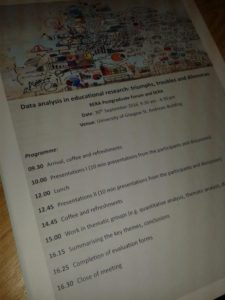 BERA-SERA postgraduate research event
The SERA student representatives along with the BERA (postgraduate forum) organised the first joint BERA-SERA postgraduate research event bringing together doctoral students to explore their triumphs, troubles and dilemmas in data analysis.
The seminar entitled 'Data analysis in educational research: triumphs, troubles and dilemmas' took place on the 30th September 2016 at the University of Glasgow. It was facilitated by Dr Katherin Barg (University of Glasgow), Dr Rille Raaper(Durham University) and Stella Mouroutsou (University of Glasgow) and included interactive activities allowing participants to engage with the topic, share their plans and experiences, and to develop new networks.