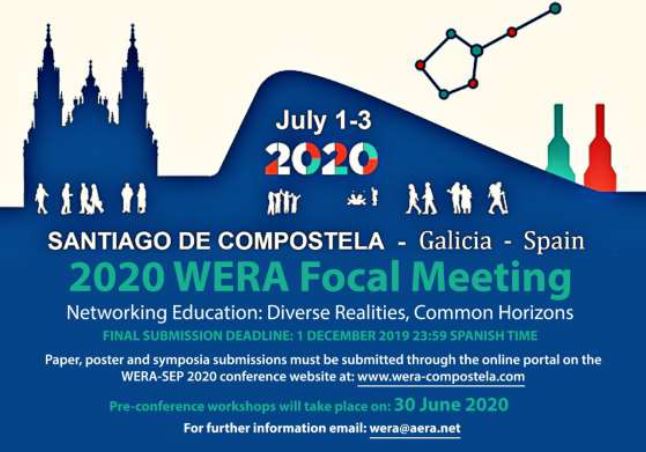 The Call for Submissions for the World Education Research Association (WERA) Focal Meeting to be held in Santiago de Compostela, Spain from 1 to 3 July 2020 is now open. WERA is an association of major national, regional, and specialty education research associations dedicated to  sharing scholarship, developing networks, and mutually supporting capacity building. The WERA 2020 Focal Meeting is an integral part of the annual conference of the Sociedad Española de Pedagogía (SEP) and consists of a program of paper, symposia, and poster sessions on topics of worldwide emphases and significance. WERA Focal Meetings are embedded in the conference of a WERA member association.
Please note that the Call includes an invitation to submit proposals for papers, posters, and symposia.
The online submission system can be found at www.conftool.com/wera2020.
Submissions for the Call must be completed by 1 December 2020; 23:59 Central European Time.
Best wishes,
Liesel Ebersöhn
WERA Secretary General