About Dr Marion Allison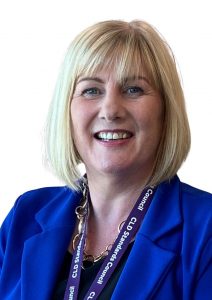 Dr Marion Allison has over 30 years' experience of working within Community Learning and Development and Education.
She currently leads the CLD Standards Council, the professional association for adult learner, community development and youth workers in Scotland.  With a membership of approximately 3,000 people form a Marion leads the organisation across all business areas, working with a wide range of professionals from the public, voluntary and private sectors with partnership programmes across the UK and beyond. She has led the CLD Standards Council through two education reforms, contributes to youth work, adult learning and community work policy and is a strong advocate for the Community Learning and Development workforce  and standards.  Marion is also a member of the Institute of Directors, Vice-Chair of the Learning and Teaching Committee and Board of Management at Glasgow Kelvin College and a previous a Trustee at Impact Arts, an award winning community arts organisation.  She worked all over Glasgow in various youth work roles before moving to South Lanarkshire Council where she managed two large youth centres. Marion lectured on the BA/BA(HONS) Community Education Course at the University of the West of Scotland and completed her doctoral study into Young People, Enterprise and Social Capital at the University of Stirling.
Keynote abstract
John Dewey sagely claimed that "You cannot teach today the same way you did yesterday to prepare students for tomorrow." As Scotland once again finds itself in the maelstrom of Education Reform, policy makers may well ask how they prepare an education system suitable for the learners of tomorrow. The aim of this presentation is to show how effective Community Education can contribute to a reformed and connected lifelong learning system. Firstly, I will discuss how political, economic, social and technological changes have led to the rapid expansion and currency of knowledge and skills. Projected changes in technology, environment and populations mean that we are preparing learners for jobs and ways of living that do not yet exist.
In response to this challenge Skills Development Scotland have developed a meta-skills matrix that offers a framework of skills and abilities that future societies and economies may need. I will critique this model and consider the value-added by learner's life experiences, pathways for lifelong-learning and the role of review and reflection. Overall, I will show how effective Community Education, underpinned by critical pedagogy (Friere 1972); can pave the way to system change. Finally I will ask participants to consider how their practice and research can influence and contribute to policies that work for all of Scotland's young people, learners and communities